Diplomado
Diploma de Extensión en American Cultural Studies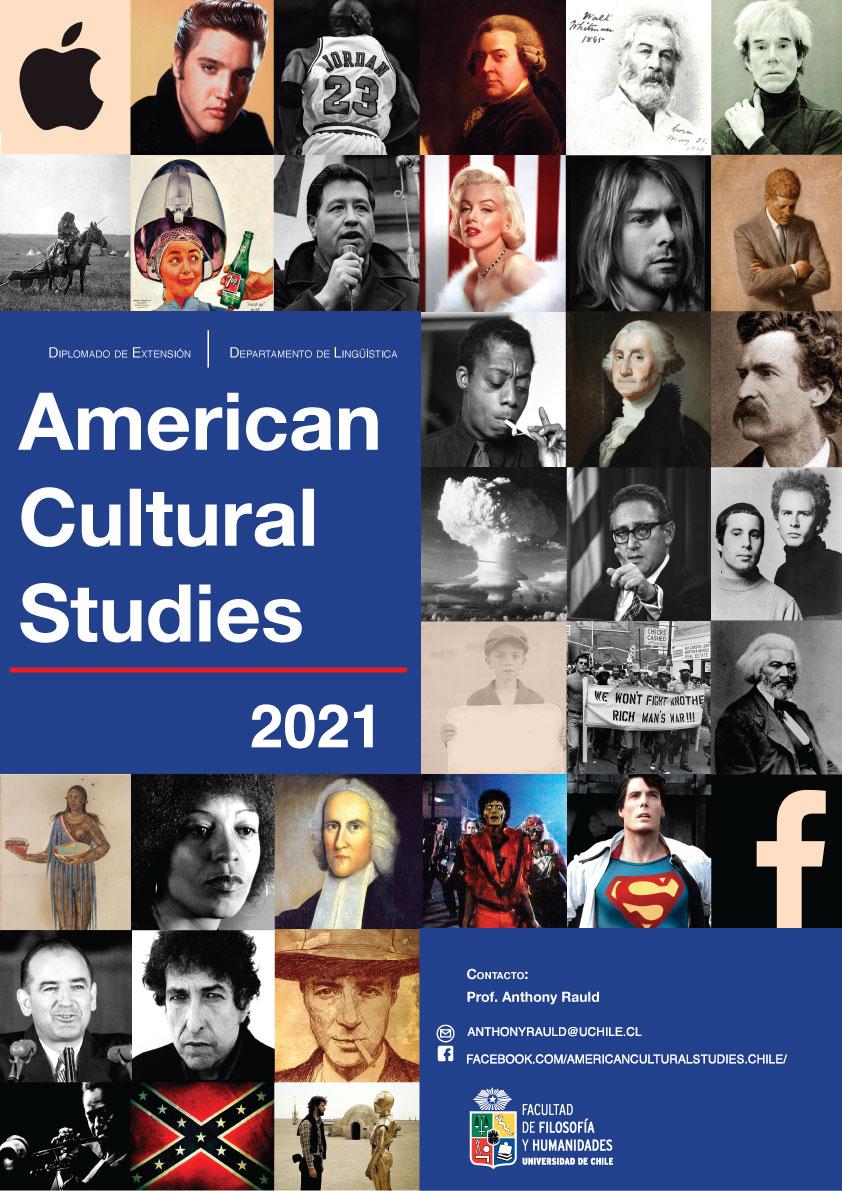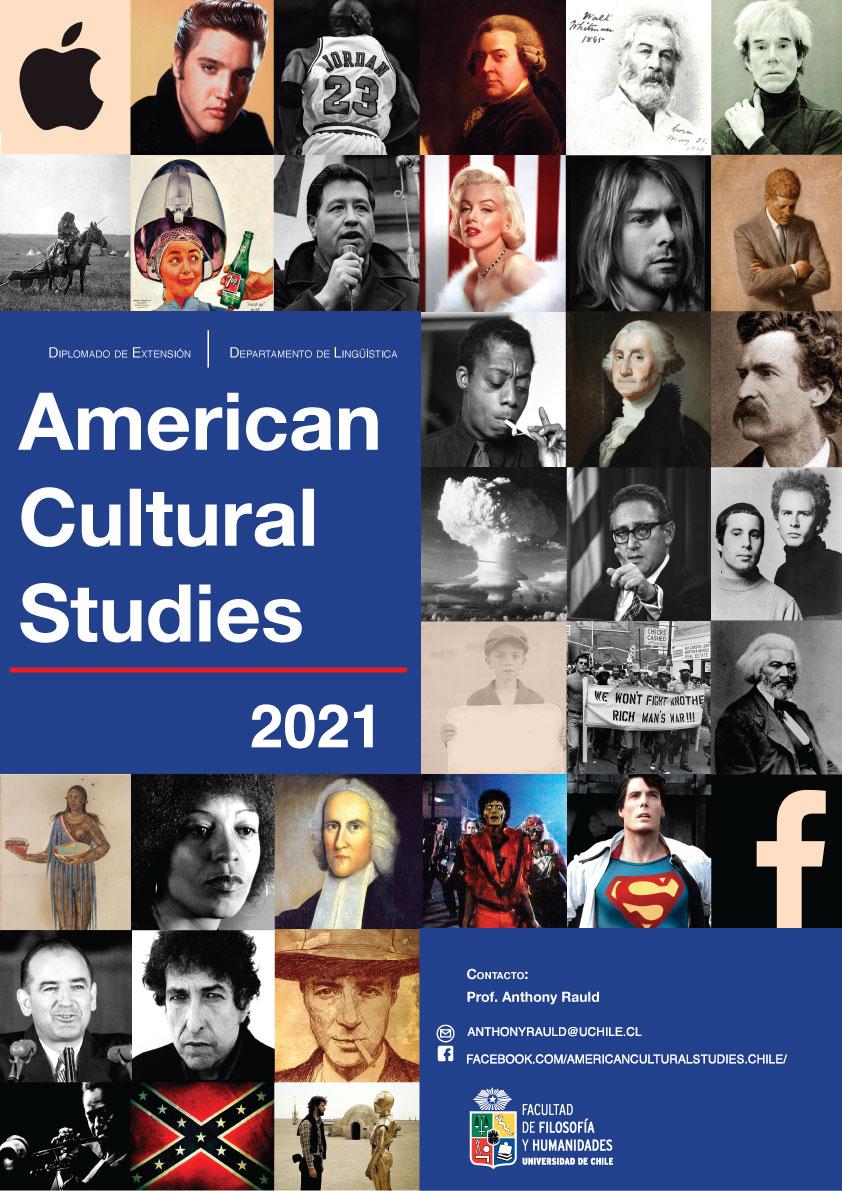 Fecha y hora
17/05/21 al 6/10/21 - lunes , miércoles - 17:45 hrs.
Lugar
Clases online, sincrónicas (-)
Dirigido a
Estudiantes universitarios, profesores de inglés, periodistas, traductores, empresarios, profesionales en el área de gestión cultural, etc.
Organiza
Departamento de Lingüística
The main objective of American (US) Cultural Studies is for students to acquire a general overview of US culture, history, and literature, and to broaden their capacity to engage critically, and theoretically, with American cultural texts (including literary texts, films, plays, political speeches, etc.). In the process of exploring and articulating US themes, students will also improve their research, writing, and oral communication skills.
Students become familiar with and understand the major cultural epochs of the United States, and the major figures, movements, and events that have come to define them. Students also become familiar with and apply some of the basic theoretical and conceptual (and methodological) frameworks found in the disciplines of anthropology, philosophy, literary studies, and cultural studies. Students learn how to approach American cultural texts and will be challenged to apply those skills in the production of a creative writing project (a short story). Students are also encouraged to integrate the knowledge and skills learned throughout the semester into their own local and professional contexts. Students also improve their English language skills. They will significantly advance their writing skills and oral skills. Every class, discussion, interview, feedback session, reading, film, and conversation takes place in English.
Embracing and promoting cultural awareness and tolerance is also an overarching goal of the program.
Modules:
I. American (US) Studies
The Introduction to Cultural Studies Module introduces students to the academic discipline of Cultural Studies. Students are introduced to the origins of cultural studies as a field of research, as well as to the concepts that have shaped its development— concepts such as power, representation, and cultural text. They also become familiar, and are able to recognize, the main theoretical trends influencing cultural studies over the history of the discipline, including Marxism, structuralism, and post-structuralism. In terms of methodology, students are introduced to the tenets of feminist, postmodern, and postcolonial thought, and are shown how these ideas can be applied in the analysis of cultural texts. The goal of this module is to give students a basic set of conceptual tools to be able to think about the cultural matrix of the United States critically, and as a site where meanings are produced, identities and subjectivities are formed and power consolidated and/or contested.
II. Creative Writing Workshop
The creative writing workshop module introduces students to the basic theoretical and practical components of writing in general and creative writing in particular, and provides hands-on training so that students can develop the skills necessary to work on and complete the program's final evaluation: a creative writing project. Throughout the semester, students will be exposed to the world of writing and creative writing. The creative writing final project will be presented digitally towards the end of the semester.
III. American (US) History and Culture Through Literature and Film
The American Culture and History Through Film module introduces students to the history of the United States, and examines historical events and experiences (and texts) from a cultural perspective—focusing on the dominant paradigms that have shaped each cultural epoch, from its protestant beginnings, and its republican "coming of age" to the industrial, and post-industrial modern era. The module uses films and short stories as cultural texts, which help to bring to life past historical epochs.
IV. Discourse Analysis: American (US) Leaders
This module focuses on and explores key speeches given at key moments in time by American presidents, and other important leaders, as a way to shed light on how leaders articulate or challenge the dominant paradigms of the United States through time and through the use of rhetorical devices. Through close readings and analysis of the rhetorical devices, techniques, and discourses used by these orators, students also learn how language can be used politically to manufacture or subvert consent.
V. American (US) Literature
The American Literature module is designed to introduce students to a variety of American authors and American themes. Students will explore various American authors, including Benjamin Franklin, Thomas Jefferson, Ralph Waldo Emerson, Nathaniel Hawthorne, Herman Melville, Walt Whitman, Emily Dickinson, Edgar Allen Poe, Mark Twain, Louisa May Alcott, Ezra Pound, T.S. Eliot, Gertrude Stein, Ernest Hemingway, F Scott Fitzgerald, Shirley Jackson, Fannery O'Connor, Jack Kerouac, Allen Ginsberg, Raymond Carver, Joyce Carol Oates, Maya Angelou, Toni Morrison, and Alice Walker.
VI. African American History
The African American History module explores key events and themes that have marked the lives of generations of African Americans, including the transatlantic slave trade, Reconstruction and Jim Crow, the Civil Rights movement, and Black Lives Matter.
Coordinación
Prof. Anthony Rauld y Prof. Margarita Zúñiga
Horas de clase
lunes y miércoles 17:45-19:15; 19:30-21:00
Número total de horas: 96
Requisito
Inglés Avanzado (B2*)
*establecido con entrevista personal
Formas de pago

Compartir:
http://uchile.cl/f135369